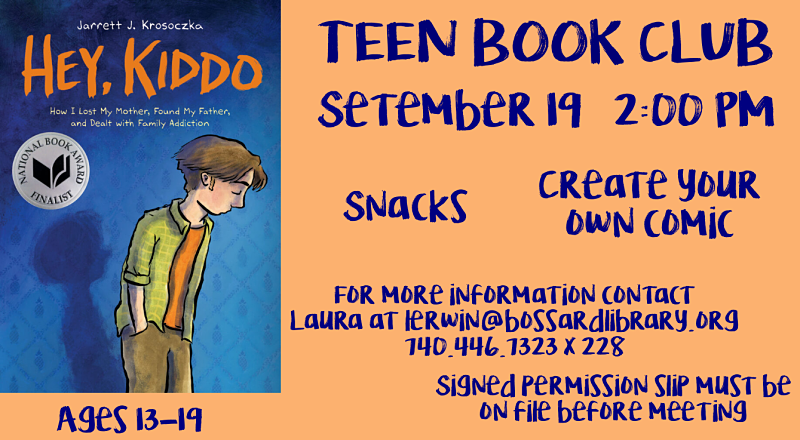 Teens, join us on Saturday, September 19 at 2:00 PM to discuss Hey, Kiddo by Jarrett J. Krosoczka.
In kindergarten, Jarrett Krosoczka's teacher asks him to draw his family, with a mommy and a daddy. But Jarrett's family is much more complicated than that.

His mom is an addict, in and out of rehab, and in and out of Jarrett's life. His father is a mystery; Jarrett doesn't know where to find him, or even what his name is.Jarrett lives with his grandparents, two very loud, very loving, very opinionated people who had thought they were through with raising children until Jarrett came along.

Jarrett goes through his childhood trying to make his non-normal life as normal as possible, finding a way to express himself through drawing even as so little is being said to him about what's going on. Only as a teenager can Jarrett begin to piece together the truth of his family, reckoning with his mother and tracking down his father.

Hey, Kiddo is a profoundly important memoir about growing up in a family grappling with addiction, and finding the art that helps you survive.
Enjoy snacks as you create your own comic.
Miss Laura encourages members to read the month's book, but this is not required.
Teens (ages 13-19) interested in the book club MUST have their parent or legal guardian complete and return a permission slip.
This permission slip MUST be on file at the Library before attending a meeting or checking out the month's title.
Permission slips are available for download here, or stop by the Library to pick up a copy.
For more information regarding Teen Book Club, please contact Laura at lerwin@bossardlibrary.org, or 740.446.7323 x 228.