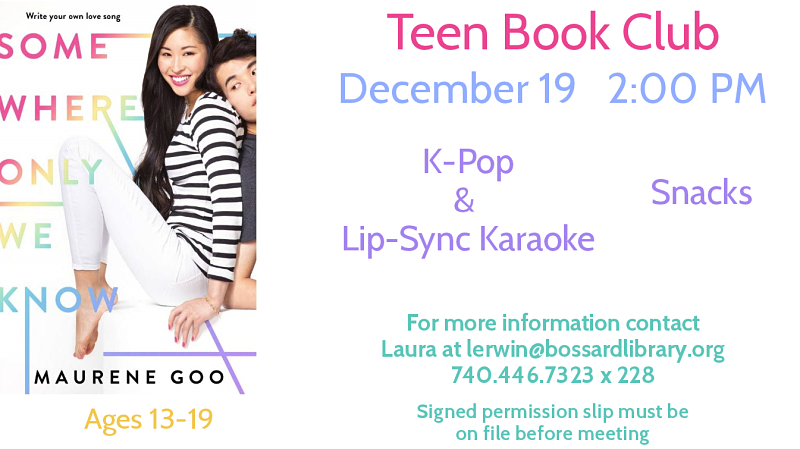 Teens, join us on Saturday, December 19 at 2:00 PM to discuss Somewhere Only We Know by Maurene Goo.
10:00 p.m.: Lucky is the biggest K-pop star on the scene, and she's just performed her hit song "Heartbeat" in Hong Kong to thousands of adoring fans. She's about to debut on The Tonight Show in America, hopefully a breakout performance for her career. But right now? She's in her fancy hotel, trying to fall asleep but dying for a hamburger.

11.00 p.m.: Jack is sneaking into a fancy hotel, on assignment for his tabloid job that he keeps secret from his parents. On his way out of the hotel, he runs into a girl wearing slippers, a girl who is single-mindedly determined to find a hamburger. She looks kind of familiar. She's very cute. He's maybe curious.

12:00 a.m.: Nothing will ever be the same.
Enjoy snacks and participate in lip-sync Karaoke and K-Pop.
Miss Laura encourages members to read the month's book, but this is not required.
Teens (ages 13-19) interested in the book club MUST have their parent or legal guardian complete and return a permission slip.
This permission slip MUST be on file at the Library before attending a meeting or checking out the month's title.
Permission slips are available for download here, or stop by the Library to pick up a copy.
For more information regarding Teen Book Club, please contact Laura at lerwin@bossardlibrary.org, or 740.446.7323 x 228.