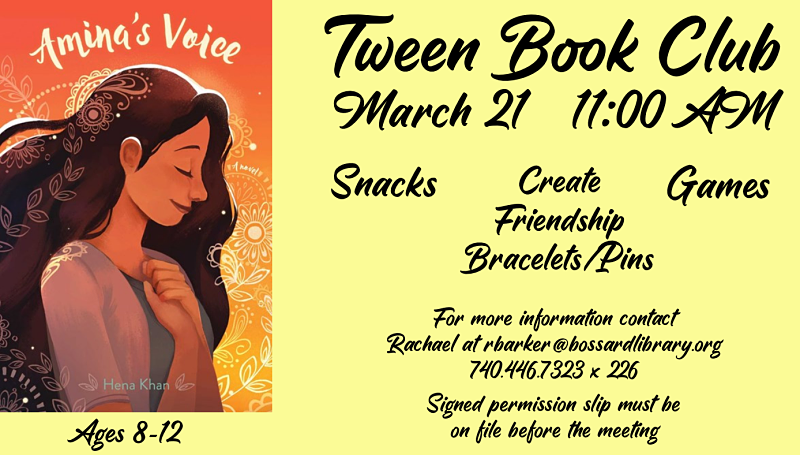 Tweens, join us on Saturday, March 21 at 11:00 AM to discuss Amina's Voice by Hena Khan. 
Amina has never been comfortable in the spotlight. She is happy just hanging out with her best friend, Soojin. Except now that she's in middle school everything feels different. Soojin is suddenly hanging out with Emily, one of the "cool" girls in the class, and even talking about changing her name to something more "American". 

Does Amina need to start changing too? Or hiding who she is to fit in? While Amina grapples with these questions, she is devastated when her local mosque is vandalized.

Amina's Voice brings to life the joys and challenges of a young Pakistani American and highlights the many ways in which one girl's voice can help bring a diverse community together to love and support each other.
Enjoy snacks as you play games and create your own friendship bracelet/pin.
Miss Rachael encourages interested tweens to attend even if they have not finished, or have not read, the book.
Tweens (ages 8-12) interested in the book club MUST have their parent or legal guardian complete and return a permission slip.
This permission slip MUST be on file at the Library before attending a meeting or checking out the month's title.
Permission slips are available for download here, or stop by the Library to pick up a copy.
For more information regarding Tween Book Club, please contact Rachael at rbarker@bossardlibrary.org, or 740.446.7323 x 226.