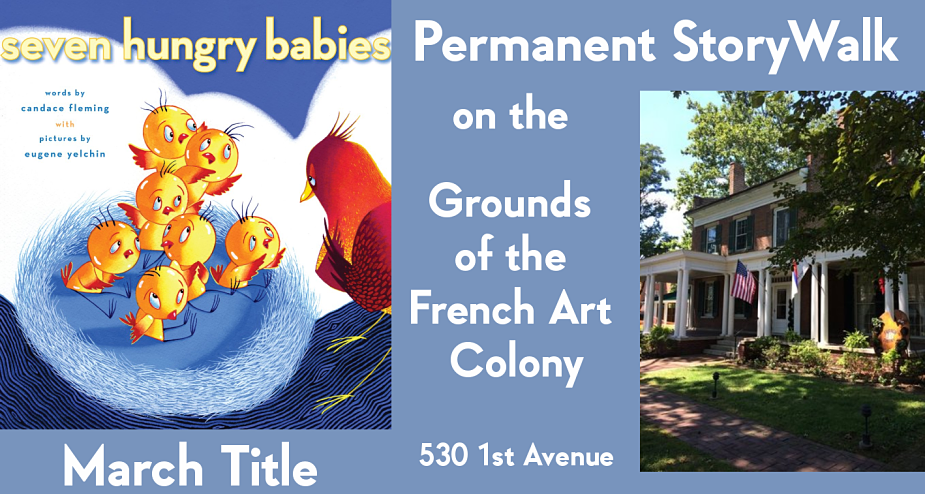 The Library's new StoryWalk title is now on display at the French Art Colony.
Stop by, enjoy the gardens and grounds, and read Seven Hungry Babies by Candace Fleming, illustrated by Eugene Yelchin.
One spring morning, high in a nest, seven speckled eggs begin to CRAAACK!

And seven hungry babies open their beaks wide.

These bitty baby birds are hungry, hungry, hungry -- and they're letting Mama know.

What's a Mama Bird to do?

Feed them, of course -- one after the other.

Flappa-flap, swoop-swoop, zoom-zoom, yum!

Readers can count with Mama Bird as she zooms back and forth across the pages, going from seven hungry babies to none....until one by one the babies wake up again.....hungry!
If you would like more information about Candace Fleming, please visit her website.
For more information about illustrator Eugene Yelchin, please visit his website.
Listen and watch a read-aloud version of Seven Hungry Babies (YouTube)
Our next StoryWalk will be available the beginning of April.
StoryWalk is a way for children and adults to enjoy both the great outdoors and great children's books. Follow the pages of the story as you walk from frame to frame along the path. StoryWalk promotes literacy, physical activity, and parent/caregiver involvement.
The StoryWalk Project was created by Anne Ferguson of Montpelier, VT and developed in collaboration with the Kellogg Hubbard Library. StoryWalk is a registered service mark owned by Ms. Ferguson.