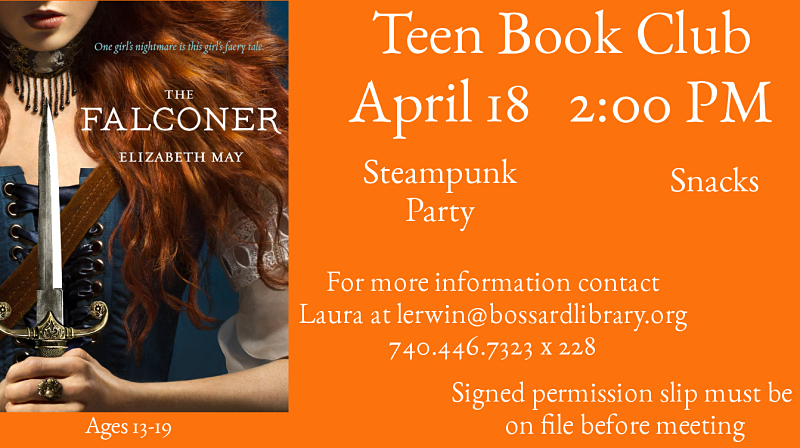 Teen Book Club has been CANCELLED for April 18.
Teens, join us on Saturday, April 18 at 2:00 PM to discuss The Falconer by Elizabeth May.
Edinburgh, 1844.

Beautiful Aileana Kameron only looks the part of an aristocratic young lady. In fact, she's spent the year since her mother died developing her ability to sense the presence of Sithichean, a faery race bent on slaughtering humans. She has a secret mission: to destroy the faery who murdered her mother.

But when she learns she's a Falconer, the last in a line of female warriors and the sole hope of preventing a powerful faery population from massacring all of humanity, her quest for revenge gets a whole lot more complicated.

This electrifying thriller blends romance and action with steampunk technology and Scottish lore in a deliciously addictive read.
Enjoy snacks and party Steampunk style!
Miss Laura encourages members to read the month's book, but this is not required.
Teens (ages 13-19) interested in the book club MUST have their parent or legal guardian complete and return a permission slip.
This permission slip MUST be on file at the Library before attending a meeting or checking out the month's title.
Permission slips are available for download here, or stop by the Library to pick up a copy.
For more information regarding Teen Book Club, please contact Laura at lerwin@bossardlibrary.org, or 740.446.7323 x 228.