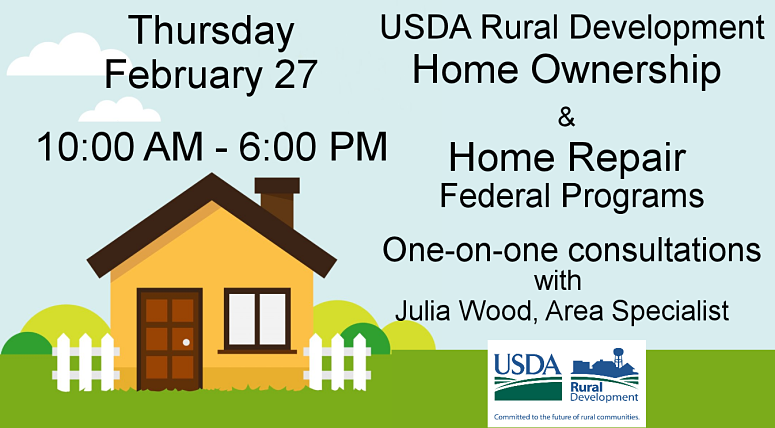 On Thursday, February 27 from 10:00 AM to 6:00 PM, Julia Woods, Area Specialist with the USDA Rural Development will be available for one-on-one consultations regarding home ownership opportunities & home repair loans and grants offered by the Federal Government.
If you're seeking housing in a rural area but struggling with the cost, the USDA can help.
The USDA offers mortgage loans with low rates and no down payment requirement for low-income residents in rural areas who wish to buy or build a home.
With a USDA loan guarantee, private lenders will offer mortgage loans that would otherwise not be available. Rural residents should work directly with their lender, and the lender should apply to USDA.
The USDA also finances nonprofits that can help rural residents build their own homes, buying down the price with their sweat equity. Find out if a nonprofit is operating a self-help program in your area.
If your rural home is in need of critical repairs that are beyond what you can afford, the USDA offers low-interest loans, as well as grants for seniors. The USDA also finances nonprofits that can help with home repairs or water well replacements.
If you are not ready to buy a home, the USDA finances affordable rental housing across rural America and offers rental assistance to ensure low-income families pay no more than 30 percent of their income on housing. Contact the USDA-financed apartment directly to inquire about vacancies and available rental assistance.
Eligibility requirements must be met to qualify for these programs.
Meet with Julia to find out if you are qualified and let the USDA Ohio Rural Development help you purchase your own home or make repairs on the home you already own.
Need immediate info? Contact Ms. Woods at 740.885.3295 or julia.wood@usda.gov.
(graphics courtesy of freepik.com)