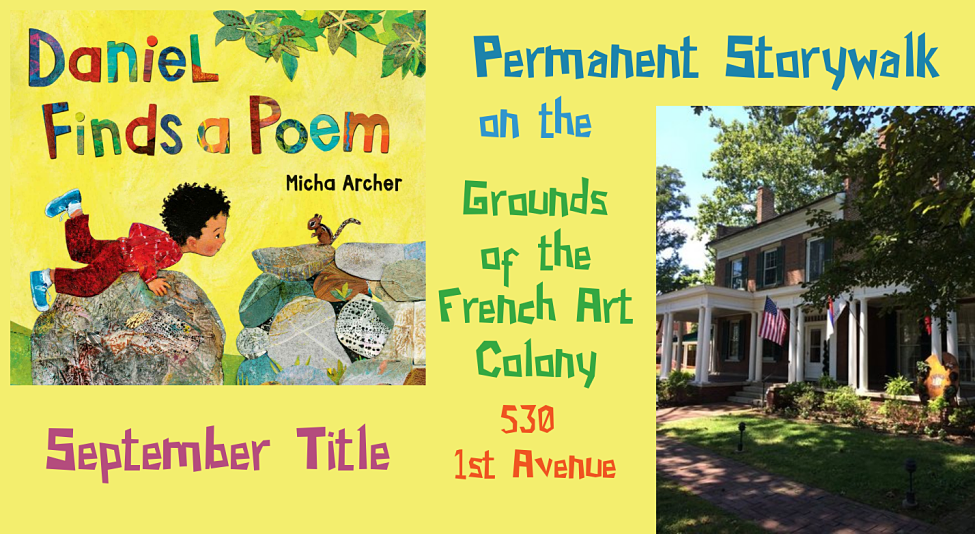 The Library's new StoryWalk title is now on display at the French Art Colony.
Stop by, enjoy the gardens and grounds, and read Daniel Finds a Poem by Micha Archer.
What is poetry? Is it glistening morning dew? Spider thinks so. Is it crisp leaves crunching? That's what Squirrel says. Could it be a cool pond, sun-warmed sand, or moonlight on the grass? Maybe poetry is all of those things, as it is something special for everyone -- you just have to take the time to really look and listen.

The magical thing is that poetry is in everyone, and Daniel is on his way to discovering a poem of his own after spending time with his animal friends. What is poetry? If you look and listen, it's all around you.
If you would like more information about Micha Archer, please visit her website.
Listen to author Micha Archer read aloud Daniel Finds a Poem (YouTube). 
Read an interview with author Micha Archer about poetry and Daniel Finds a Poem. 
Our next StoryWalk will be available the beginning of October.
StoryWalk is a way for children and adults to enjoy both the great outdoors and great children's books. Follow the pages of the story as you walk from frame to frame along the path. StoryWalk promotes literacy, physical activity, and parent/caregiver involvement.
The StoryWalk Project was created by Anne Ferguson of Montpelier, VT and developed in collaboration with the Kellogg Hubbard Library. StoryWalk is a registered service mark owned by Ms. Ferguson.