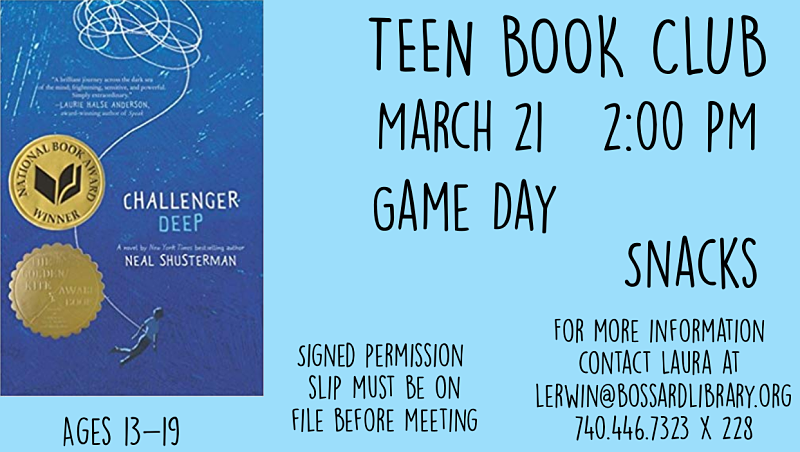 Teens, join us on Saturday, March 21 at 2:00 PM to discuss Challenger Deep by Neal Shusterman.
Caden Bosch is on a galleon that's headed for the deepest point on Earth: Challenger Deep, the southern part of the Marianas Trench.

Bosch is a brilliant high school student whose friends are starting to notice his odd behavior.

He is designated the ship's artist in residence to document the journey with images.

Bosch pretends to join the school track team but spends his days walking for miles, absorbed by the thoughts in his head.

He is split between his allegiance to the captain and the allure of mutiny.

He is torn.

He is dealing with schizophrenia....and as fantasy and paranoia begin to take over, his parents have only one choice left.
Enjoy snacks as you test your skills with board games.
Miss Laura encourages members to read the month's book, but this is not required.
Teens (ages 13-19) interested in the book club MUST have their parent or legal guardian complete and return a permission slip.
This permission slip MUST be on file at the Library before attending a meeting or checking out the month's title.
Permission slips are available for download here, or stop by the Library to pick up a copy.
For more information regarding Teen Book Club, please contact Laura at lerwin@bossardlibrary.org, or 740.446.7323 x 228.